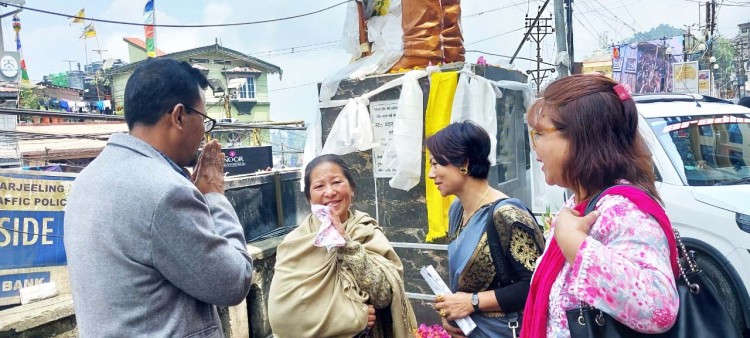 Monday, May 22, 2023 05:45 [IST]
Last Update: Monday, May 22, 2023 00:11 [IST]
Madan Tamang remembered on his death anniversary
DARJEELING,: Family members and senior politicians offered their tributes to All India Gorkha League (AIGL) leader Madan Tamang at his memorial here at Upper Club Side on his death anniversary.
Tamang had been hacked to death in broad daylight at the very spot on May 21, 2010.
The slain leader's wife Bharati Tamang, family members and leaders from different political parties were present to offer their tributes and remember Tamang.
"It has been thirteen years that the murder took place but till now the Gorkhas have not got justice. Those involved in the murder case are freely walking around. He was a sincere leader with a vision and in the fifty years to come the Gorkhas will not get someone like him," said AIGL leader Pratap Khati.
Khati mentioned that the murder trial is going on at three courts – the City Civil Court, the High Court and the Supreme Court – but has not progressed much. "Those taking steps in this are also staying quiet right now. We are thinking of approaching the Supreme Court again for a speedy trial," he said.
The AIGL leader maintained that the death of Madan Tamang had sealed the fate of the Gorkhas and blocked the route to Gorkhaland. We will walk the route shown by our late leader and it is our commitment to work for people's benefit, he said.
On his side, Gorkhaland Activist Samuha chief convenor Kishore Pradhan maintained that May 21 was the day when the Gorkhas "lost their guardian".
"We cannot only stay put and only pay him our respects. We must see how we can follow his ideologies and fulfil what he worked for which is the identity of the Gorkhas. He used to say that no one could stop the demand of Gorkhaland and he was right as it is our constitutional right, no one can stop of us from that," said Pradhan.
It is sad to see that in a conspiracy a Gorkha was murdered and the person behind it was also a Gorkha, said Pradhan.
Hamro Party president Ajoy Edwards along with their party supporters offered prayers at the statue of Madan Tamang.