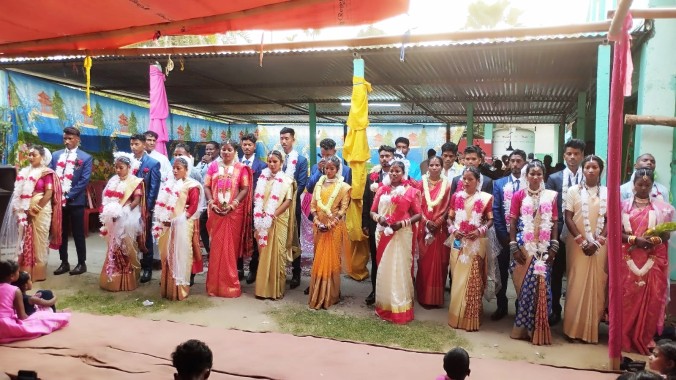 Wednesday, Apr 19, 2023 06:30 [IST]
Last Update: Wednesday, Apr 19, 2023 00:54 [IST]
Mass wedding for 13 couples
PRASHANT ACHARYA
SILIGURI,: It was a new beginning for 13 destitute couples when they entered into a wedlock during a mass marriage function organised by committed social worker Roma Reshmi Ekka who is also a 'Sahakari Sabhadhipati' of Siliguri Mahakuma Parishad.
The mass marriage function was conducted at a church in Kharubhanga Basti under Phansideva block due to Roma's initiative with the support from the local tribal people. After tying the knots, the couples were also provided with the marriage certificates.
According to Roma, many tribal couples living in the tea garden areas under Siliguri Mahakuma Parishad were facing a lot of difficulties to arrange marriage ceremony due to financial shortcomings, so this program was organized keeping in view the sentiments of the society.
She informed that since this was the first time, the marriage ceremony was organised in small manner but in coming days more couples will be invited to join the mass marriage with support from Siliguri Mahakuma Parishad.
Siliguri Jalpaiguri Development Authority Board Member Kajal Ghosh gave blessings to all the couples, while Shankar Sarkar, vice president of Bidhannagar II Gram Panchayat had arranged cakes for the couples.
The couples including local residents invitees and guests joined the dance programme and appreciated the initiative taken by Roma who comes always comes forward for the upliftment of the society.