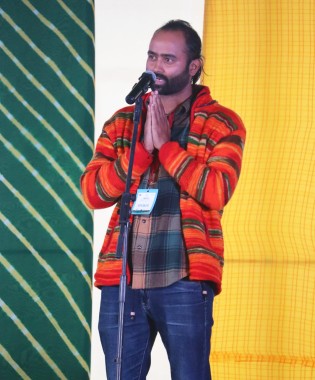 Friday, May 12, 2023 07:45 [IST]
Last Update: Friday, May 12, 2023 02:06 [IST]
Parajuli takes West Sikkim students to magical world of poetry
BIJOY GURUNG
Celebrated poet predicts Sikkim Lit Fest will inspire future writers of Sikkim
GANGTOK,: With his moving verses at Yuksom, celebrated Nepalese poet Nawaraj Parajuli opened the gates to the mystical world of poetry for hundreds of students of distant West Sikkim.
Even if a handful of students from the gathering are inspired to pursue poetry after the poignant hour-long performance, it should be rewarding for both Parajuli and the Sikkim Arts & Literature 2023 organisers.
"I have performed before large gatherings and also before a limited audience. How many people are there, it is not important. From the students who have come here, even if two of them feel like writing a poem after listening to me, it is satisfying to me," said the poet in a brief conversation with SIKKIM EXPRESS prior to his performance in Yuksom on May 8.
The Sikkim Arts & Literature Festival 2023 at Yuksom is a national upgrade of SKM students wing's literary initiative 'Read & Grow' held in collaboration with Teamwork Arts and Sikkim government from May 6 to 8.
Parajuli lauded the literature festival being held in remote Yuksom as it provides a rare opportunity for local students to meet and listen to eminent poets and writers. It is my prediction that in future when famous writers and poets emerge from Sikkim, some of them will say that they were inspired by the Sikkim literature festival at Yuksom, he said.
Students from various schools and colleges of Sikkim, especially those from Soreng and Gyalshing districts, thronged the three-day fest. Though their numbers did not match to the turnout witnessed in the previous 'Read & Grow' events at Gangtok, the objective was clear – to connect students and youth of far-flung areas with literature and arts.
Parajuli spoke on similar lines.
"It is important to understand who the targeted population are. If it was held in Gangtok then many people would have gathered but in Gangtok such events are regularly held. Last time the 'Read & Grow' festival was held in Gangtok, I was there, the patrons out there who love literature, they had got this opportunity already. If literature events of such scale are not held here, when will the students of this region get this opportunity? It is difficult for them to travel to Gangtok. Such literature events should also be held in rural, remote areas," expressed the 'Sagarmatha Ko Gahirai' writer.
Parajuli gave a nearly one hour long performance on the final day which was also attended by Chief Minister PS Golay. The enduring poems included 'Bampanti Love' and an abridged version of 'Happy Birthday' – a mother's poignant message to her son - that left many in the audience misty-eyed.
Before starting his poems, Parajuli shared that it was his fourth visit to Sikkim, something he always looks forward to, given the love and hospitality he receives here. He summed up his feelings with a four-line verse -
Sukha key hoh?
Sakhi ko kakh ma runu paunu
Ya ta
Sikkim ko pahuna hunu paunu