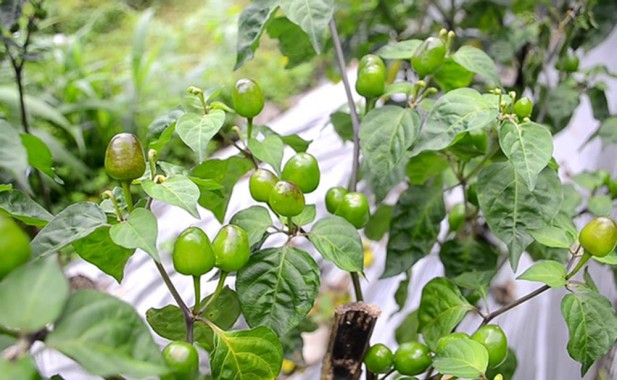 Thursday, Sep 03, 2020 11:00 [IST]
Last Update: Thursday, Sep 03, 2020 05:45 [IST]
RED HOT! Sikkim's Dalley Khorsani to get GI tag
KUNAL RAI
GANGTOK: Dalley Khorsani, the famous red hot cherry pepper of Sikkim, is set to get the prestigious Geographical Identification (GI) certification, which will provide it legal protection and give impetus to marketing of the chilly variety exclusively grown in Sikkim.
The North Eastern Regional Agricultural Marketing Corporation Limited (NERAMAC), headquartered in Guwahati, had applied for the GI tag of Dalley Khorsani of Sikkim and the approval process is at its final stage, State authorities here informed. The same organisation had applied for and secured the GI tage for Sikkim's large cardamom some years ago.
A GI is a sign used on products that have a specific geographical origin and ensures good qualities or a reputation in the region.A geographical indication is a public property of a particular area or State.
State Horticulture secretary M.T. Sherpa told SIKKIM EXPRESS that with the GI tagging, the species of chilly will be Sikkim origin and benefit the farmers of the State. "With GI, the crop will have global recognition and the marketing of the product will be beyond the national borders," he added.
Farmers in South, West and clusters of east and north districts of Sikkim have been cultivating Dalley Khorsani as a cash crop and the price fetched locally is good.Once the product is branded and packed the price availed in international market will boost the farmers' income.
With the government's intervention, the production of Dalley this year in Sikkim is expected to increase compared to last year's production of around 100-120 MT, said Sherpa. The Government Fruit Preservation Factory, that markets its products under Sikkim Supreme brand, has signed a MoU with some clusters of West Sikkim farmers for procurement of around 130 MT of Dalley Khorsani as well.
Expressing happiness on the development, Agriculture and Horticulture minister Lok Nath Sharma credited the achievement to the farmers of the State.
"Dalley is a well-known cherry pepper of the State and its consumption and recognition in the State is very high along with its demand. Now after GI tagging there will be value addition to the cherry pepper. The farmers produce will have a global market and will also open new venture as well. The doors for global market will open up," the minister added.
Sharma also hoped that with the GI tag, the income of Dalley Khorsani farmers will also increase. "We are really happy to know about this achievement as this will boost the morale of the farmers of the State too and benefit in days ahead in all aspects," he stated.