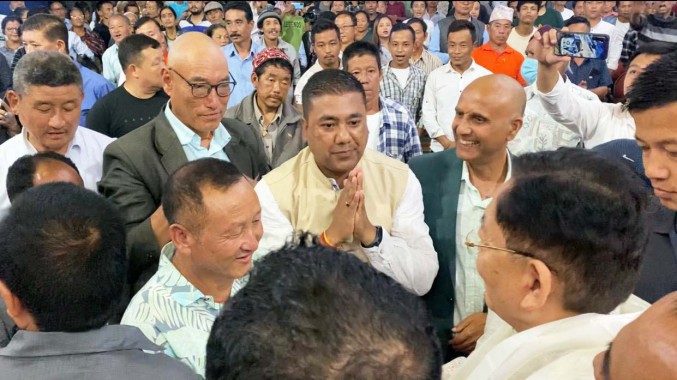 Wednesday, Sep 20, 2023 07:30 [IST]
Last Update: Wednesday, Sep 20, 2023 01:51 [IST]
SDF Govt crucial for 2026 Delimitation: IK Rasaily
GANGTOK,: State BJP functionary IK Rasaily was among those who were formally welcomed into the SDF by party president and former Chief Minister Pawan Chamling during the major joining programme held at SDF Bhawan here.
Rasaily is a former two-term panchayat president from Kyongnosla GPU in East Sikkim and was working in the State BJP IT cell.
In his joining address, Rasaily shared that he had won the panchayat election unopposed from the SDF ticket but later joined the BJP in the interests of the local villagers. He worked for the State BJP for around 34 months.
Rasaily obliquely criticized the State BJP for not asserting itself in the "double-engine government" of the SKM and the BJP, leaving many issues of the people unresolved. To illustrate his point, he mentioned that the State BJP made a feeble protest on the late Padam Gurung's death case whose family are still waiting for justice. In comparison, the Siliguri police swiftly arrested the accused person for the heinous murder of a girl student but despite this swift action, the BJP unit there made a strong protest but in Sikkim, the BJP unit was not vociferous though it was capable of doing more, he expressed.
The BJP also has to take equal responsibility for all the things going wrong in Sikkim under the SKM government, said Rasaily. He maintained that the SDF party should be brought back into the government, especially considering the delimitation happening in 2026.
"Delimitation is taking place in 2026. It is valid for 20 years and the 2026 delimitation in Sikkim would be conducted under the party which wins the 2024 election. There are complicated issues of seat reservation and so, SDF must be brought back in 2024," said Rasaily, extending his support to the 40-seat formula of the SDF.