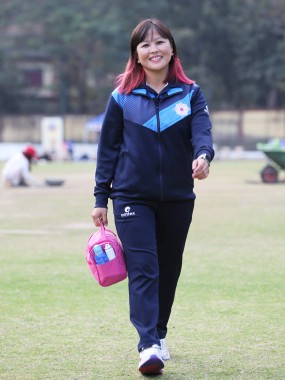 Tuesday, Feb 21, 2023 08:15 [IST]
Last Update: Tuesday, Feb 21, 2023 02:40 [IST]
Sheril Lepcha to join Gujarat Titans as assistant physio
GANGTOK,: Sikkim women's cricket team physiotherapist Sheril Lepcha is set to join Women's Premier League (WPL) side Gujarat Titans as an assistant physiotherapist.  
The Women's Premier League is an upcoming women's Twenty20 cricket franchise league in India. The first season will be played next month in Mumbai and Navi Mumbai with five franchises taking part.
The Gujarat Titans, showing faith in the expertise of Sheril, has offered her a role of assistant physiotherapist in the franchise for the inaugural season.
"It is a surreal experience for me as I wasn't expecting it," said Sheril, while adding that she was hopeful of the assignment because of the all the hard work she has put in.
"With the amount of the hard work and dedication I have put in as a sports physiotherapist and the experience I have garnered, I believed I will reach that level someday," the 35-year-old from Sombaria added.
Sheril is one of the most experienced sports physiotherapists in the Northeast. Sheril, who is engaged with Sikkim's senior women's cricket team since they first started playing Indian domestic cricket in 2018-19, also held stints with United Sikkim Football Club for three years during which period United Sikkim became the first Sikkim club to play in I-League (2012-13) which was then the top-tier men's professional football competition in the country. She also functioned as the lead physiotherapist for North East team in the recently concluded Inter-Zonal Women's One-Day Trophy.    
Sheril, who holds a Masters in Physiotherapy degree with specialisation in Orthopedic Sports Rehabilitation from Sikkim Manipal Institute of Medical Science, worked at Neotia Getwel Healthcare Centre in Siliguri for four years before a Sikkim Cricket Association proposal in 2018 brought her back to the field.
"I am very thankful to SICA who provided me the platform and exposure because of which I have been able to reach this level today," added Sheril.