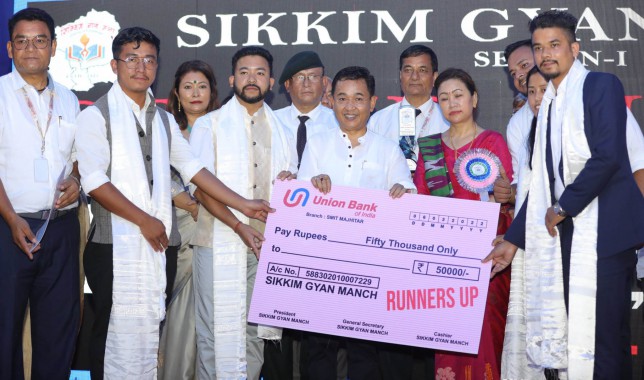 Monday, Jul 11, 2022 07:30 [IST]
Last Update: Monday, Jul 11, 2022 01:57 [IST]
Sikkim Gyan Manch Season 1 concludes
PAKYONG, (IPR): Chief Minister Prem Singh Tamang, along with his spouse Krishna Rai, attended the grand finale-cum-closing seremony of Sikkim Gyan Manch Season 1 programme at Duga Government Secondary School, Rangpo today.
Sikkim Gyan Manch (SGM) is an NGO initiated by retired government officials with an objective of sharing knowledge, to promote and expose hidden talents and to provide motivational speeches from distinguished personalities of the society. The SGM focuses on disciplines like debate, motivational talk, felicitation to exemplary personalities and entrepreneurs of the society, and promotion of unexposed hidden talent.
The season 1 which began from December 12, 2021 had a total of 15 episodes, where various debates took place in various schools. Distinguished personalities were also felicitated in previous programmes. The main theme of this year's season was "Work Culture and Discipline." It was informed during the programme that the first episode of SGM season 1 will be released in various media outlets such as TV, Youtube and Facebook media from today.
The Chief Minister in his speech extended his congratulations towards members of Sikkim Gyan Manch. He said that today the gathering was for intellectuals and for society. This organization is doing a great job, by organizing something unique for the society. He said that he has learnt a lot from today's programme and added that knowledge is something which no one can snatch from you.
The Chief Minister said felicitation is about recognizing distinguished dignitaries for doing something for the society and this tradition will continue to motivate them. He expressed a privilege to be part of the programme.
The Chief Minister highlighted recent developments of Sikkim including increase in milk production, incentive in vegetable, fruits and milk, capital to ill patients, CMMAS, CM Scholarship scheme, Nar Bahadur Scholarship scheme, Amma scheme etc. He added that all the district degree colleges will be facilitated with ambulance and dispensaries to the colleges which quite far from hospitals. He assured that the government will leave no stone unturned in assisting the public in development works. In the end, he thanked everyone present on the programme who made the first season of Sikkim Gyan Manch a success on behalf of his cabinet colleagues.
He also informed the gathering that Sikkim has been declared in the number 1 position in India for the Jal Jeevan Mission.
During the programme, Manita Pradhan (mountaineer) from Soreng and Dr. H.P. Chhetri, founder and director, Himalayan Pharmacy Institute, were felicitated through the hands of the Chief Minister. The programme also included a release of the book "Introduction to Earthquake Engineering and Basis of Fluid Mechanics" written by Navneet Chettri, Lecturer, CCCT.
The grand finale debate competition took place between Pancharatna, Tumin Lingee (For) and The Renaissance, Rhenock (Against) on the topic of "Animals should have equal rights as Human Being."
Various awards and certificates were also awarded through the hands of the Chief Minister including debate winners and class X topper from Duga SS (class of 2021). The Chief Minister gave a financial aid of Rs. 20 lakh to SGM as a token of appreciation for their effort towards the organization.
Speaker L.B. Das, in his address, gave a brief history about the establishment of Sikkim Gyan Manch. He requested the youth to follow dedication, honesty and perseverance to succeed in life. Further, he cautioned the youths to come to a conclusion only after going in-depth about any subject.
The Speaker talked about "Work, Culture and Discipline" by giving example of Japan who established itself as an economic superpower despite of suffering two atomic bomb attacks in World War II. He informed everyone that requests for numerous road and water projects have been sanctioned in Pendam. In the end, he thanked the Chief Minister for his presence on behalf of the people of Pendam.