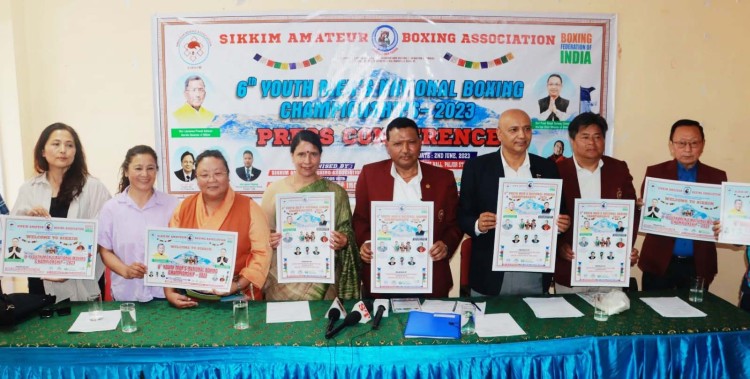 Saturday, Jun 03, 2023 08:00 [IST]
Last Update: Saturday, Jun 03, 2023 02:29 [IST]
Sikkim hosting national boxing event after 15 years
KUNAL RAI
GANGTOK,: At least 36 teams from 28 States and eight Union Territories have confirmed their participation in the upcoming Youth Men's National Boxing Championship in Gangtok, organisers Sikkim Amateur Boxing Association (SABA) said today.
Held in collaboration with Boxing Federation of India (BFI), the sixth edition of the youth championship is the first national boxing event hosted by Sikkim in 15 years.
The BFI awarded the hosting rights to SABA following Sikkim's worthy performance at the nationals, said SABA president Jas Lal Pradhan at a press conference here today.
"We are honoured to host the national level championship after almost 15 years. The decision to award hosting rights to our State was taken during the recently-held annual general meeting of BFI. SABA is thankful to be the organisers of the event, and we are enthused by Chief Minister PS Tamang's support. The Chief Minister has assured all possible help towards the grand success of the event, along with the chief patron of SABA, minister Sonam Lama," said Pradhan.
The championship will be participated by over 725 delegates including players, referees and judges, he added.
The boxing championship will take place from June 13 to 18 with the Chief Minister set to inaugurate the championship at indoor hall in Paljor Stadium complex.
The championship will see boxers in the age group of 17-19 years compete across 13 weight categories. Sikkim will field 13 boxers.
The gold medallists will be handed direct qualification for the upcoming ASBC Asian Youth & Junior Boxing Championships to be held in Astana, Kazakhstan.
The press conference was also attended by Sikkim Olympic Association president Kuber Bhandari, Culture department advisor Bhim Kumari Sharma, Khadi and Village Industry Board chairperson Chung Chung Bhutia and deputy mayor Tshering Pladen Bhutia. They lauded the Chief Minister's initiatives to encourage sports in the State.