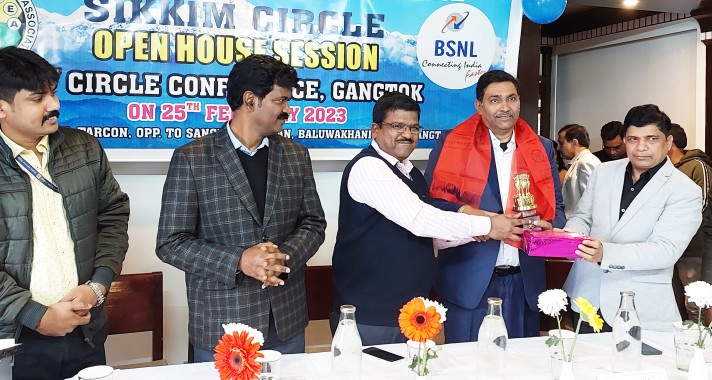 Sunday, Feb 26, 2023 08:45 [IST]
Last Update: Sunday, Feb 26, 2023 03:13 [IST]
SNEA holds conference on challenges for BSNL
KUNAL RAI
GANGTOK,: The Sanchar Nigam Executives Association (SNEA), Sikkim BSNL circle, held its first conference Saturday here in Gangtok with the theme 'whether BSNL is again emerging, if so what are the challenges'.
Sikkim circle Chief General Manager (CGM) Rajeev Chandel was the chief guest for the event also attended by DOT director Jayanta Koley, SNEA general secretary MS Adasul, West Bengal telecom circle secretary Somnath Ghosh and Sikkim circle DGM DK Upadhyaya. Officials and staffs of Sikkim circle were also present.
Addressing the conference, the Sikkim circle CGM mentioned that Sikkim circle, formed about 18 months ago, has limited but close-knit manpower working towards the development of telecom services in Sikkim through BSNL. There are constraints and challenges but we need to strive to achieve whatever is possible through the means available with us…we have made achievements but there are lot more to meet, he said.
Chandel thanked the senior BSNL officials for their constant support to the newly established Sikkim BSNL circle. He added that the Sikkim circle will definitely make a mark in coming days for BSNL.
Earlier, DOT director Jayanta Koley expressed his happiness over the successful conduction of SNEA conference. He said there are two projects that have been assigned to the BSNL which needs to be implemented. All necessary support for the fostering of Sikkim circle would be extended from our end considering the performance seen in the last few months, he said.
SNEA general secretary MS Adasul maintained that the BSNL is not here to make profits but to serve the people with telecom services. As a government organisation, it is our priority to reach our services to the rural and far flung areas that are neglected by the big players, he said. Once the reach and asset is developed, we just need to upgrade the facility and provide quality services to the masses, he said. He informed that BSNL has been extended with two new revival packages which have resulted to turn around for the telecom service provider. He also highlighted the targets and rankings achieved by the Sikkim circle so far.
At the same time, Adasul said the resources at the Sikkim circle is limited and makes it challenging to meet the high targets.
The conference was also addressed by BSNL Sikkim Circle DGM DK Upadhyaya and circle secretary BSNLEU Arun Rai.