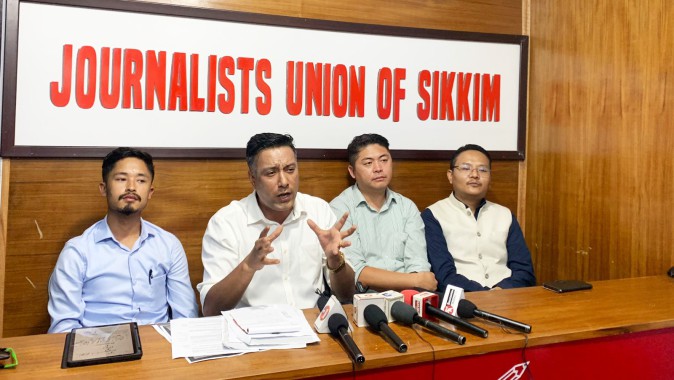 Tuesday, Sep 19, 2023 06:45 [IST]
Last Update: Tuesday, Sep 19, 2023 01:12 [IST]
SNS demands State's clarity on amended birth document law
GANGTOK: The Sikkimey Nagarik Samaj (SNS) has demanded the ruling SKM and opposition political parties to give their stand on the Registration of Births and Deaths (Amendment) Act 2023 which is coming into force nationwide from October 1.
According to SNS general secretary Passang Sherpa, the amendment Act allows the use of a birth certificate as a single document for admission to an education institute, issuance of a driving licence, preparation of a voter list, Aadhaar number, registration of marriage or appointment to a government job.
Speaking to media here on Monday, Passang contended that the amended provision of endorsing a birth certificate for a government job in State and Central establishments is in conflict with Rule 4 (4), an old law of Sikkim duly protected under Article 371F.
"As per Article 371F, job appointments in State government departments and undertakings here are only given to those holding Sikkim Subject Certificates and Certificates of Identification. With this new national law on the birth certificate as a single document for various purposes including government job appointments, we feel that a door has been opened for non-Sikkimese born in Sikkim to claim State government jobs here in future. This is a direct assault on our old law of Rule 4 (4) and Article 371F," said the SNS general secretary.
Passang pointed out that such concern is further compounded since Article 14 (right to equality) has already been enforced in Sikkim in reference to the AOSS petition for income tax exemption.
"Before enacting the amendment, the Centre had written to all the State governments seeking their opinions. We want to know what were the opinions given by the Sikkim government on this. We also demand the political parties including the ruling SKM to give their stand on this concern," said the SNS general secretary.
Passang demanded the Sikkim government to pass a bill in the Assembly to ensure that such amended national law does not allow non-locals to secure State government jobs here. He pointed out that the Registration of Births and Deaths (Amendment) Act falls under the Concurrent list, meaning both the Centre and the State have the power to amend it.
"Hence we want the State government's view on it. We have given the government 10 days' time to come up with their views. If there is no response, we will be holding an all-party and organization meeting, whereby we will adopt a resolution and send it to the Central government. The State government can at least send a letter to the Union government saying we already have Rule 4(4) in Sikkim," said the SNS general secretary.
Passang also spoke on the all-party committee formed during the special Assembly session of April this year to address the concerns on expansion of 'Sikkimese' definition for income tax exemption in the Finance Act 2023.
It has been five months since that committee was formed and we want to know about its status and whether it has corresponded with the Centre regarding the dilution of 'Sikkimese' definition through clauses 4 and 5 in the amended Income Tax Act, said the SNS general secretary.