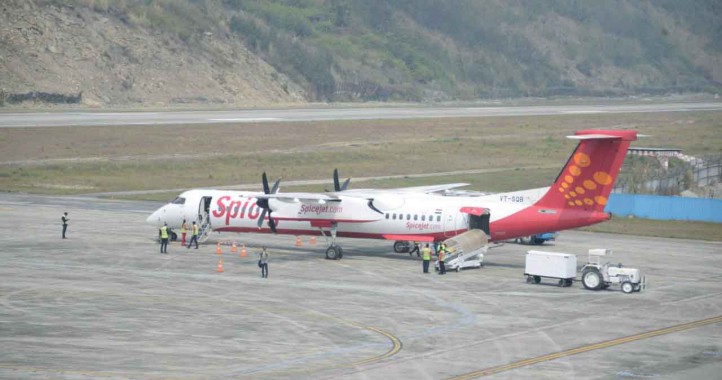 Wednesday, Mar 15, 2023 05:45 [IST]
Last Update: Wednesday, Mar 15, 2023 00:09 [IST]
Spicejet flight lands at Pakyong after five months
AJAY THAMI
PAKYONG, : The commercial air connectivity for Sikkim has resumed after almost five months after Spicejet started operating its Delhi-Pakyong flight on Tuesday.
Forty passengers landed at Pakyong airport, about 35 km away from Gangtok, on Tuesday. Eleven passengers boarded the flight back to Delhi.
Spicejet is the lone flight operator for Sikkim and had suspended its Sikkim operations about five months back claiming technical issues. It has now opened ticket bookings in its website and other web portals.
On March 22, one commercial Spicejet flight is available on the Delhi-Pakyong-Delhi route.
Regular flight operation on Delhi-Pakyong route will commence from March 26, informed Spicejet manager (Pakyong) Sandip Narang to media.
Operation of Kolkata-Pakyong flight has not yet been decided by the airliner.
The Spicejet had stopped its flight services at Pakyong airport from October 30, 2022.
Meanwhile, the road leading to Pakyong airport from Pakyong bazaar and towards Ranipool has been upgraded for welcoming the G20 delegates who are landing at the airport on a chartered plane on Wednesday.
Banners have been installed to welcome the G20 delegation.