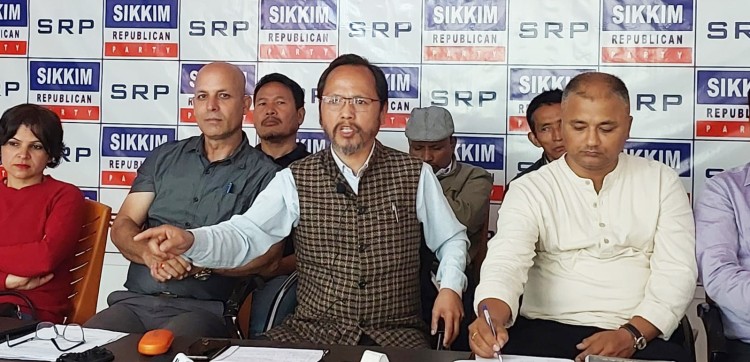 Wednesday, May 17, 2023 05:30 [IST]
Last Update: Tuesday, May 16, 2023 23:52 [IST]
SRP announces 11-point agenda for upcoming election manifesto
KUNAL RAI
GANGTOK,: The Sikkim Republican Party (SRP) has announced an 11-point agenda to be included in the party's election manifesto for 2024 Assembly polls.
Speaking to media here on Tuesday, SRP president KB Rai said the announcement was being made on the day when Sikkim merged with the Indian Union following a public referendum in 1975. The merger has reached its 48th year and it is high time that Sikkim and the Sikkimese introspect on what Sikkim has gained and lost, he said.
The SRP president maintained that Article 371F which provides special Constitutional privileges and protection for Sikkim and the Sikkimese have been diluted and violated over the years. "This dilution has not taken place due to the Centre but because of our elected leaders who had been given the mandate to protect Article 371F. Our elected leaders for their personal gain and vested interests have compromised the distinct identity of Sikkim and Sikkimese," he said.
Regarding the 11-point agenda, Rai maintained that if the SRP is given the mandate to govern the State in coming Assembly elections, the party will hold a special Assembly session on May 16 for protection of Article 371F, he said. We will also raise the issue of restoration of Nepali seats in the Sikkim Legislative Assembly, he added.
These resolutions would be brought in the special Assembly session and taken for a 'Janmath Sangraha' (public referendum) for approval and then submitted to the Centre for consideration, he said.
Another agenda adopted by the SRP is to establish Sikkim State Education Board to study the history of Sikkimese Nepali community and prepare a book on ancient, medieval and modern facts on the community. This will be taken up so that the narrative or tag on the Sikkimese Nepali community is removed permanently, said the SRP president.
"Our party is committed to have a zero tolerance against corruption. We will develop a system whereby the corruption practice will be completely abolished. Those involved in corruption will be punished as per the law which includes the corruption that has taken place in the previous government too," said the SRP president.
Rai asserted that the SRP will restore all the old laws of Sikkim based on the people's referendum. The issues of adhoc employment in government sector and private companies will also be resolved…we will come out with a direct recruitment system and those serving in private companies will also be facilitated with a salary as per the inflation rate so that they also lead a dignified life, he said.
The press conference was also addressed by SRP general secretary Tara Bhattarai and attended by working president Nicknor Pradhan and party executives.