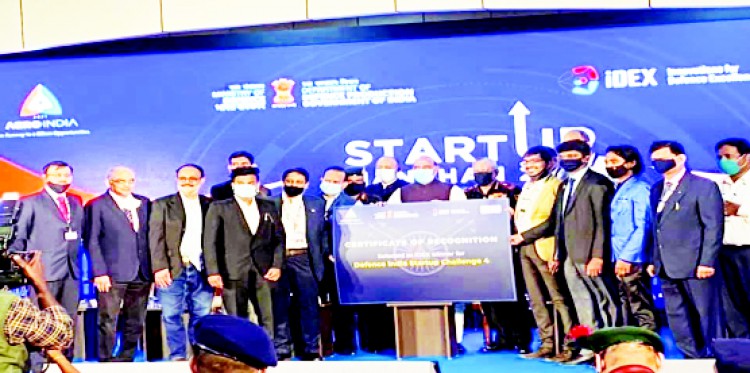 Thursday, Feb 18, 2021 08:00 [IST]
Last Update: Thursday, Feb 18, 2021 02:27 [IST]
Startup incubated at AIC-SMUTBI wins Rs 1.5 cr grant at Defence India Startup Challenge
GANGTOK,: AATWRI Aerospace Pvt Ltd, a startup incubated at AIC-SMU Technology Business Incubator (AIC-SMUTBI) has been declared as the winner of the Defence India Startup Challenge (DISC-4) which was organized by Ministry of Defence, Government of India.
The Defence India Startup Challenge, launched under the aegis of Department of Defence Production, Ministry of Defence is aimed at fostering a Defence Innovation Ecosystem for Indian military to co-create technologically advanced solutions in a rapid manner by harnessing the power of Entrepreneurial Innovation and Venture Capital.
A press release informs that the fourth edition of the Defence India Startup Challenge was launched by Defence minister Rajnath Singh on September 29 last year inviting Indian Startups, MSMEs and technology/researcher professionals to innovate for Indian Defence.
This is a unique competition in which innovative solutions are sought from the public to help in solving any of the challenges of India's defence ranging from equipment for deep sea deployment for Indian Navy to target simulation for training in airforce etc., as part of Innovation in Defence Excellence (iDEX).
The AATWRI Aerospace Pvt Ltd team won a grant of Rs 1.5 crore which was presented in an award ceremony during the AeroIndia Show held at Bengaluru on February 5 from the hands of the Defence minister. AATWRI received this award for developing "Computer Generated Target for Virtual Training", the release informs.
The prototype will be built within a span of one year and will be considered for deployment after mandated testing and certification requirements.
The AATWRI team, which has been mentored by Prof (Dr) Tej Chingtham, CEO, AIC-SMUTBI, has expressed its gratitude to AIC-SMUTBI for the support extended to them for making this journey possible.
This is also one of the rare feats as startups working in the North East India have been able to achieve such recognition at national level, said the AIC-SMUTBI.
AIC-SMUTBI is the first Atal Incubation Center of North East India and is hosted inside the campus of Sikkim Manipal Institute of Technology (SMIT) under Sikkim Manipal University (SMU) at Majhitar near Rangpo. It is fully supported by AIM, NITI Aayog. It currently has 38 startups on its portfolio working in various domains.