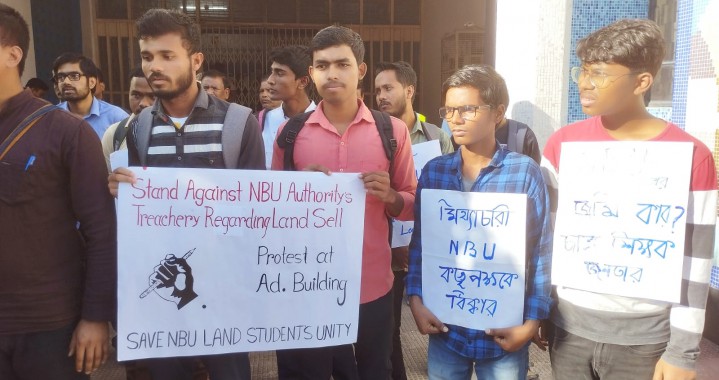 Thursday, Nov 24, 2022 07:45 [IST]
Last Update: Thursday, Nov 24, 2022 02:14 [IST]
Students on protest mode over NBU land transfer issue
PRASHANT ACHARYA
SILIGURI,: The North Bengal University's decision to hand over five acres of varsity land to the State tourism department has sparked a controversy with some faculty members, officials and students fearing that the land would be eventually handed over to a private educational institution.
On Wednesday, students under the banner of 'Save NBU land, Student's Unity' demonstrated in front of the university's administration building and appealed others to take part in the protest movement.
Md Shamin, a 3rd semester student of Physics department, said, "We strongly condemn and raise objection on the sale of the land of the university. This is shame on the administration and the concern department those who are involved on selling the land."
Ratnadeep Sarkar from Geology department said that if the government decides to lease out or sell the land, the students will strongly oppose it. He also appealed all the students of North Bengal to raise their voice against government's decision.
Leaders of Trinamool Chatra Parishad (TMCP), student's wing of the ruling party also are against the selling the land to the private group.
Darjeeling district TMCP working president Mithun Vaishya said, "The land will stay with the State government and will not go to any private group or company."
Darjeeling MP Raju Bista had also raised objection over the issue on Wednesday with the West Bengal Governor.
He said, "I also took this opportunity to draw his kind attention to the serious allegations of corruption raised against the North Bengal University (NBU) administration. It has been brought to my notice by eminent thinkers, intellectuals and academics from our region that the University Administration, in collaboration with the land mafia associated with the ruling party in the state are trying to usurp 15 bighas of university land. This land, whose market valuation is around Rs. 90-100 crores, was initially donated to the university by the Rajbongshi community, for the welfare of the students from our region."
Bista alleged that the university administration has been working clandestinely to hand over 15 bighas of land belonging to the North Bengal University to the Government of West Bengal, with the intention that the government will then hand it over to a private entity for free, to set up a 5-star hotel, masquerading as Tourism and Hotel Management Institute.
"I informed Governor Dr. C.V. Ananda Bose that this private entity is most likely a front for money laundering for the ruling party bosses, and the involvement of the highest elected office of the state behind this whole charade is suspected," said the Darjeeling MP.