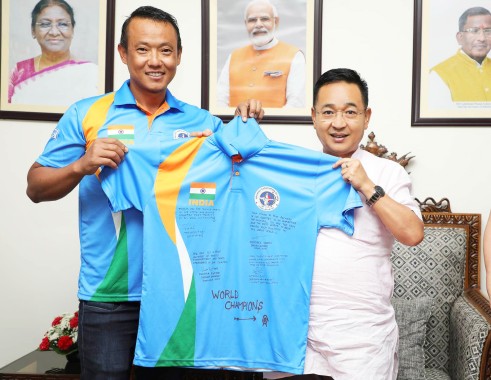 Saturday, May 27, 2023 08:15 [IST]
Last Update: Saturday, May 27, 2023 02:46 [IST]
Tarundeep Rai meets CM, lauds archery academy project
GANGTOK,(IPR): In a momentous encounter, Chief Minister Prem Singh Tamang had the privilege of meeting Tarundeep Rai, one of India's most accomplished archers and Padma Shri awardee from Sikkim.
The meeting took place in New Delhi, where they engaged in a conversation brimming with enthusiasm and mutual respect.
Expressing his delight, the Chief Minister commended Tarundeep Rai's remarkable contributions to the field of archery.
Recognizing the need to inspire and nurture future archers, the State government has been ardently working towards establishing the Tarundeep Archery Academy.
In response to Rai's kind words about the initiative, the Chief Minister conveyed his sincere gratitude and extended his best wishes for Rai's future endeavors.
Furthermore, the Chief Minister expressed heartfelt gratitude towards three renowned Indian archers, Deepika Kumari, Atanu Das, and Abhishek Verma. These accomplished athletes have not only received the prestigious Arjuna Award but also presented a splendid memento to the Chief Minister. Their appreciation for the State government's initiatives in promoting archery was warmly acknowledged.
The meeting between Chief Minister Prem Singh Tamang and Padma Shri Tarundeep Rai marked a significant step in fostering the growth of archery in the
State. With the establishment of the Tarundeep Archery Academy and the support of celebrated archers, the future of the sport looks promising, encouraging young talents to take up the bow and arrow in pursuit of excellence.