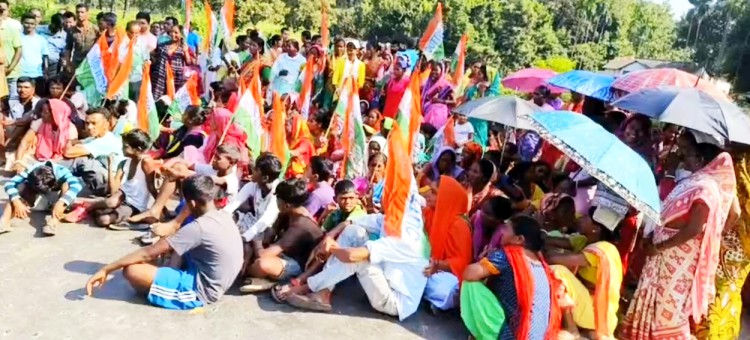 Sunday, Nov 12, 2023 08:00 [IST]
Last Update: Sunday, Nov 12, 2023 02:22 [IST]
Trihana tea garden workers block road demanding Puja bonus
PRASHANT ACHARYA
SILIGURI,: Hundreds of workers blocked the Bagdogra-Panighatta Road on Saturday after the management of Trihana tea garden was unable to pay the Puja bonus and shut down its office.
The Trihana tea garden and its two divisions Jabra and Mohanlal has more than 3000 workforce and were on road on Saturday morning blocking the vehicular movement demanding immediate payment of Puja bonus and functioning of tea garden.
The management staff employees left their quarters and bungalow on Friday early morning at around 4 am, fearing labour unrest.
The workers including children and women blocked the road demanding payment of bonus since Saturday morning. They demonstrated on road holding the flag of the ruling TMC party and sought intervention of Chief Minister Mamata Banerjee into the matter.
Bagdogra police also reached the spot to control the situation.
Nirmal Dey, Darjeeling district president of Indian National Trinamool Trade Union Congress (INTTUC), said the dispute has been pending at Labour commissioner's office in Siliguri and several meetings on the same issue failed after the tea garden's owner denied paying the Puja bonus.