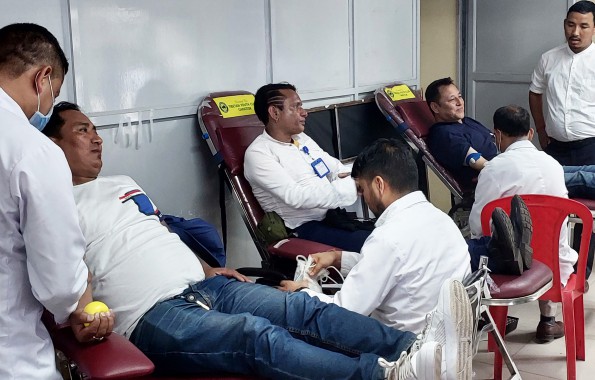 Thursday, Jul 07, 2022 08:00 [IST]
Last Update: Thursday, Jul 07, 2022 02:27 [IST]
Voluntary blood donation camp by TAAS & STNM Hospital
KUNAL RAI
GANGTOK,: The Travel Agents Association of Sikkim (TAAS) in collaboration with new STNM Hospital on Wednesday organised a voluntary blood donation camp at MG Marg.
TAAS president Sonam Norgay Lachungpa thanked the tourism stakeholders, students and individuals for coming forward to donate blood for a noble cause. He thanked STNM Hospital medical superintendent Dr. K.B. Gurung, Central Blood Bank head Dr. Sangeeta Bhandari, GMC and others for making the blood donation camp successful.
"As members of TAAS, we wanted to contribute something back to the society and felt that the best social service is to donate blood. Blood donation is the highest donation a human can extend as it helps people in need and even save lives. We appeal people to regularly donate blood voluntarily," said the TAAS president. He also thanked the TAAS members for their support and presence for the success of the blood donation camp.
"Today is also the 87th birthday of His Holiness the 14th Dalai Lama who has taught the people about compassion and humanity. We extend our heartiest birthday wishes to His Holiness and pray for his long life and good health," said Lachungpa.
A total of 105 individuals came forward to donate blood at the camp.
The TAAS president also thanked GMC for providing the venue permission and Gangtok district administration for providing the district control centre to conduct the camp.
STNM Hospital Central Blood Bank head Dr. Sangeeta Bhandari shared that voluntary blood donation is a noble job as it helps in saving people who are under treatment in hospitals. She lauded the TAAS and its president for initiating the blood donation camp.
Dr. Bhandari added that the Central Blood Bank holds 3-4 blood donation camps in a week to ensure there is no shortage in the blood bank. However, there are rare blood groups like B negative and AB negative which sometimes fall short, she said.
TAAS general secretary Ramesh Basnett also thanked the TAAS members, STNM Hospital, students and individuals who turned up to donate blood today.
The TAAS felicitated each donor with a certificate and a memento.