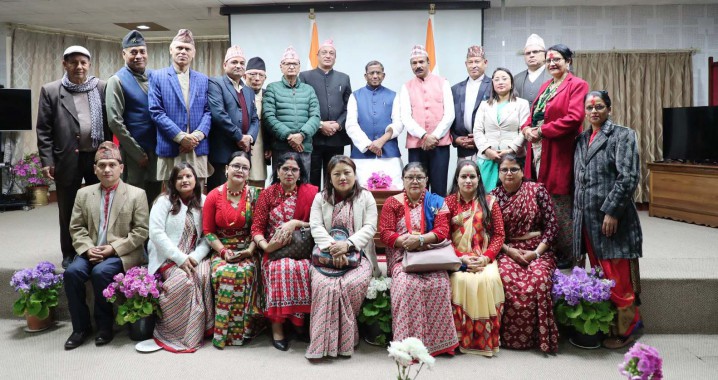 Saturday, Mar 25, 2023 04:15 [IST]
Last Update: Friday, Mar 24, 2023 22:44 [IST]
We need to take a firm stand on eradicating TB: Governor
GANGTOK, (IPR): Governor Lakshman Prasad Acharya adopted 10 TB patients and as well handed over a cheque of Rs. 1.20 lakh to the District Head of TB Cell on the occasion of World TB Day, a part of Nikshay Mitra to support the TB patients of the State, followed by a pledge taken by the audience during a programme held at the conference hall of Raj Bhawan today.
Further, the Governor also took part in the online broadcast of One World TB Day, "TB Mukt Bharat" held at Varanasi, Uttar Pradesh on the occasion of World TB Day.
The programme held at Varanasi was graced by Prime Minister Narendra Modi along with the UP Governor Anandiben Patel, UP Chief Minister Yogi Aditynath, Union Health minister Manasukh Madviya and other dignitaries.
From Gangtok, the secretary, Raj Bhawan, the District TB Officer, government employees, Raj Bhawanfamily, and STNM Hospital healthcare providers also participated online in the programme.
Addressing the gathering, the Governor said that India has set an aspirational target to eliminate TB by 2025, five years ahead of the global target set by the United Nations' Sustainable Development Goals (SDGs). The plan is centred around four strategic pillars, detection, treatment, prevention and building.
He added that, as part of his efforts to make India a role model nation, the Prime Minister has been working to eradicate TB from its origins rather than just suppress it.
"The world has committed to ending TB by 2030, but India has set a goal of doing so within the next five years. Making our society more attractive and healthy is our duty because if our society is happy, then we will also be happy," said the Governor. He added that it was important to be mindful of the competition and take the top spot on the list of States without tuberculosis.
"We should take a firm stand like we did during the pandemic times. We as a State should shoulder our responsibility with the country and be a part of such schemes," said the Governor.
The programme ended with a vote of thanks by JD Bhutia, secretary, Raj Bhawan.