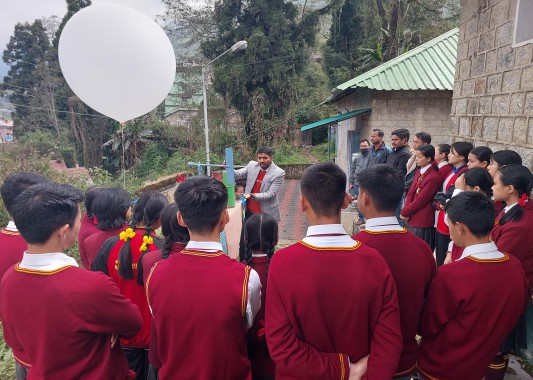 Friday, Mar 24, 2023 03:45 [IST]
Last Update: Thursday, Mar 23, 2023 22:05 [IST]
World Meteorological Day observed in Gangtok
KUNAL RAI
GANGTOK,: The Meteorological Centre, Gangtok on Thursday observed 'World Meteorological Day' with the theme of 'future of weather, climate and water across generation' here at the Meteorological Observatory sited at Raj Bhawan complex.
The day is observed annually on March 23 to commemorate the establishment of World Meteorological Organisation (WMO) in 1950. As a specialized agency of theUN, WMO is dedicated to international cooperation and coordination on the state and behaviour of earth's atmosphere, its interaction with the land and oceans, the weather and climate it produces and the resulting distribution ofwater resources.
WHO is headquartered in Geneva and is a member of United Nations Development Group.
Students from local schools took part in the day's activities and exhibition conducted by the Meteorological Centre, Gangtok to mark the day. They were taken around the centre where the Met officials briefed them on the gadgets and instruments.
It was attended by meteorologist SanjoyBhowal, scientist assistant B Chakraborty, Aarti Gupta, Abhishek Patel, AbhishekParmar and Met observer-III Thakur Prasad Sharma.
The students were also briefed on the WMO whose data collection makes getting accurate daily weather forecast possible. Meteorological data help the people track climate damage and plan their days besides receiving warnings about natural weather extremes like cyclones, heat wave, snowfall and heavy rains.