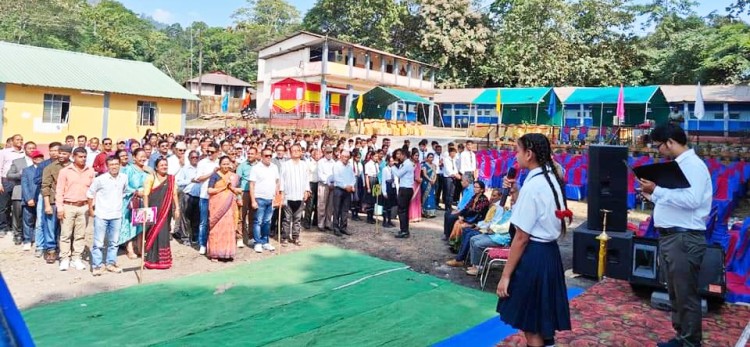 Saturday, Nov 11, 2023 08:45 [IST]
Last Update: Saturday, Nov 11, 2023 03:14 [IST]
Bagrakote senior secondary school holds grand reunion of former students
GANGTOK,: Bagrakote senior secondary school, Dooars on Thursday organised a 'Grand Assembly', the get-together of its former students to emotionally reconnect them with the school. The reunion saw enthusiastic turnout of ex-students, both the elderly and young, who took part in various activities like assembly line-up, singing the national and school songs, and prayer sessions.
The Bagrakote senior secondary school former students spend the entire day in the school campus, sharing nostalgic moments with their batchmates, remembering the old days spent in the school. They were also delighted to meet their former school teachers.
Today was an unforgettable day for all of us, said the ex-students attending the 'Grand Assembly'.
The Bagrakote school was established in 1949.
Padam Singh Lama, the sole surviving student of the first batch who gave the school final exam in 1967, inaugurated the 'grand Assembly'.
In his address, Bagrakote senior secondary school principal Sagar Sharma welcomed all the ex-students, and spoke about the purpose and importance of organising the 'Grand Assembly'.