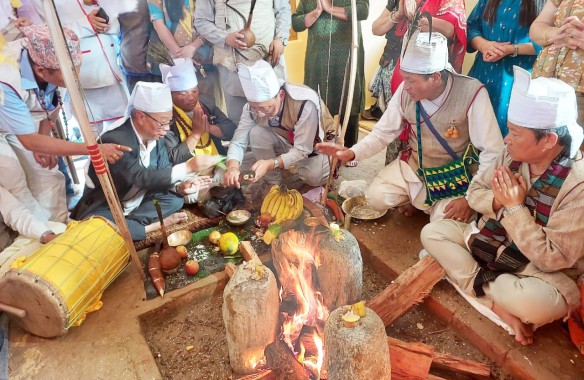 Tuesday, May 10, 2022 08:00 [IST]
Last Update: Tuesday, May 10, 2022 02:21 [IST]
Consecration ceremony of Paruhang Sapten Mangkhim
KUNAL RAI
GANGTOK,: Prayers were made and the three ritual stones were installed for consecration of Paruhang Sapten Mangkhim at Rai Gaon, Ranka on Monday. The religious ceremony as per Rai community tradition was also conducted for consecration of the idols of guardian deities Paruhang and Sumnima by the Paruhang Sapten Mangkhim committee.
Manghkim committee president Mohan Dungmali told media that the consecration rituals were carried out following the traditional rituals of the Rai community engaging the Mangpas.
"The Mangkhim is designed and developed following the Mundum (folklores) of the Rai community and constructed at an international standard. The Mangkhim will not be just a place for Rai community to offer prayers but will also act as a culture and resource centre for the community," said Dungmali.
The Paruhang Sapten Mangkhim is scheduled to be inaugurated on May 28 in a grand manner by Chief Minister P.S. Golay. We are expecting delegates from within and outside the country for the inaugural function, said Dungmali.
The consecration ceremony also included celebration of Sakewa (Ubhauli) festival of the Rai community at Paruhang Sapten Mangkhim.
Inauguration committee chief patron Jacob Khaling was the chief guest for the festival. He said the Mangkhim is of an international standard and is an asset of the entire Sikkimese people.