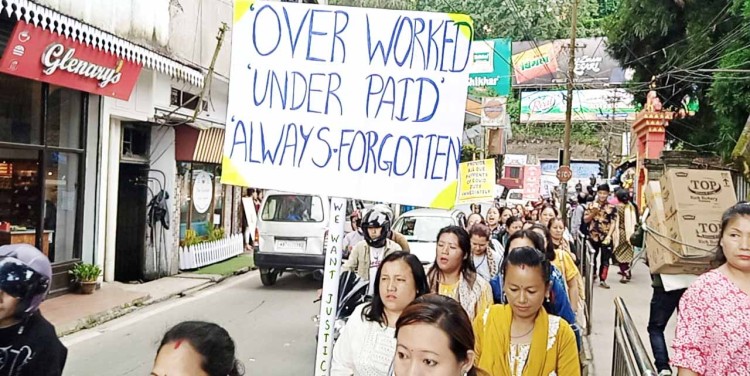 Tuesday, Sep 12, 2023 06:00 [IST]
Last Update: Tuesday, Sep 12, 2023 00:21 [IST]
Darjeeling ASHA workers carry out rally demanding hike in honorarium
DARJEELING,: ASHA workers in Darjeeling on Monday carried out a rally demanding various improvements in their working conditions and compensation.
They expressed dissatisfaction with their current honorarium. "We get an honorarium of Rs. 4,500, which is very less considering the amount of work we have to do," said ASHA worker Sarika Rai.
The ASHA workers have also complained about the delayed payment of incentives and the inadequacy of these incentives compared to their counterparts in the plains.
Held under the banner of Paschim Banga ASHA Karmi Union, the rally was held from Railway station to Darjeeling district hospital. They also briefly blocked the road at Chowk Baazar.
The ASHA workers also submitted a list of demands to the hospital authorities today. The demands include providing uniforms, not being assigned work related to the Pradhan Mantri Matru Vandana Yojana (PMMVY), immediate disbursement of incentive money and an increase in both incentive and honorarium. They are also requesting smartphones for online work, timely payment of incentives and mobile recharge, travel allowances for extra duty, and training opportunities.
The list of demands further includes requests for holidays similar to government employees, maternity leave, life insurance, and provident fund benefits.
The union has also threatened to initiate a pen down strike after October 6 if their demands are not met.