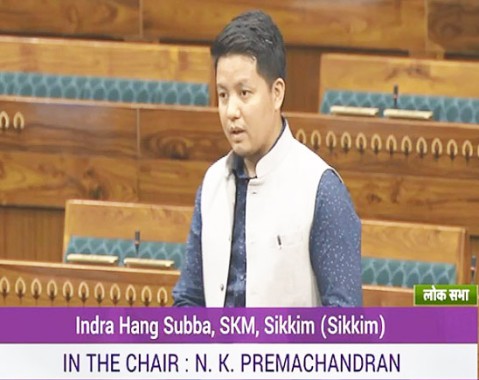 Thursday, Sep 21, 2023 22:45 [IST]
Last Update: Thursday, Sep 21, 2023 17:04 [IST]
Indra Hang highlights pending LT seat reservation in Lok Sabha
GANGTOK,: Sikkim's lone Lok Sabha MP Indra Hang Subba has again raised the Limboo-Tamang seat reservation issue in the Parliament, seeking the Centre's attention towards pending political rights of these two ST communities of Sikkim.
Speaking during the discussions on Women Reservation Bill that was passed by the Lok Sabha on Wednesday, Indra Hang extended full support to the bill on behalf of the people of Sikkim and the SKM government.
The Bill proposes one-third reservation to women in the Lok Sabha and State Assemblies.
In his brief submission, the Sikkim MP recorded that the Bill is crucial for women empowerment and participation in policy-making levels so that India achieves its ambitious developmental goals by 2047. He informed the House about the women empowerment schemes of the Sikkim government like 'Aama', 'Bahini' and 'Vatsalya'.
Indra Hang added that there should be an early delimitation in context of the Women Reservation Bill as constituencies need to be identified and reserved for women candidates.
On this delimitation note, Indra Hang drew the House's attention towards the pending seat reservation for the Limboo and Tamang communities who were recognized as STs way back in 2002.
"The two communities are yet to get reservation (in the State Assembly) because delimitation is frozen till 2026. The then government made a mistake in 2006 delimitation, they did not do seat reservation (Limboo-Tamang seats) and allowed the delimitation to take place and since then, they (Limboo-Tamang) have not got their delimitation. Such mistakes should not be repeated again," he said, while reiterating his support for the Women Reservation Bill.
The Bill is being taken up by the Rajya Sabha for passage in the remaining two days of the Special Session of Parliament, and might require approval from half of the States.
Indra Hang, during his tenure as the Sikkim Lok Sabha MP, has spoken on Limboo-Tamang seat reservation issue multiple times during discussions on Bills in the Parliament's Lower House.