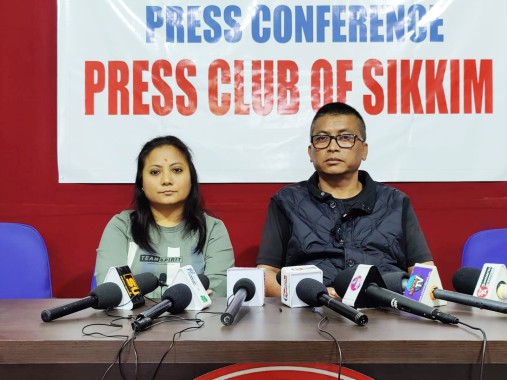 Saturday, Nov 11, 2023 09:00 [IST]
Last Update: Saturday, Nov 11, 2023 03:19 [IST]
NSUO seeks support from all for ST status demand of left-out communities
KUNAL RAI
GANGTOK,: The Nationalist Sikkim United Organisation (NSUO) has strongly objected to certain statements and submissions made by SIBLAC convenor Tseten Tashi Bhutia and advisor SD Lepcha during the recent BL convention held at Gangtok.
Addressing a media conference on Friday here, NSUO coordinator DK Pradhan maintained that the SIBLAC convenor's statement on Nepali seat restoration in the State Assembly has been there since long. He contended that Nepali seats were removed following amendments in the Indian Constitution and its restoration is improbable.
"It is useless to talk on Nepali seat restoration issue. We appeal to the people not to rake up this issue as we feel it is against the Nepalis of Sikkimese origin. Instead we request the people to address the ST status demand of the left-out communities of Sikkim," said Pradhan.
"Similarly, the Burman Commission report which had also suggested the ST status to the left-out communities was also opposed. We feel the ST status must be supported by all in the larger interests of Sikkim and Sikkimese. The BL community must not fear the dilution of their seat reservation in the State Assembly as we, being the majority, will definitely make necessary arrangements for their security. Considering the holistic protection of Sikkim, we appeal to the BL community to extend their fullest cooperation and support the demand of ST status to left-out communities of the State," said the NSUO coordinator.
Pradhan added that the statements of the SIBLAC advisor were more serious and concerning for the Sikkimese Nepali community. The SIBLAC advisor needs to study the ancient history of Sikkim before making objectionable claims against the majority community, he said.
The NSUO coordinator mentioned that the existence of Nepali community in Sikkim since ancient times is well documented by the Gazetteer of Sikkim and Archaeological Survey of India.
The press conference was also attended by NSUO member Anita Gurung.