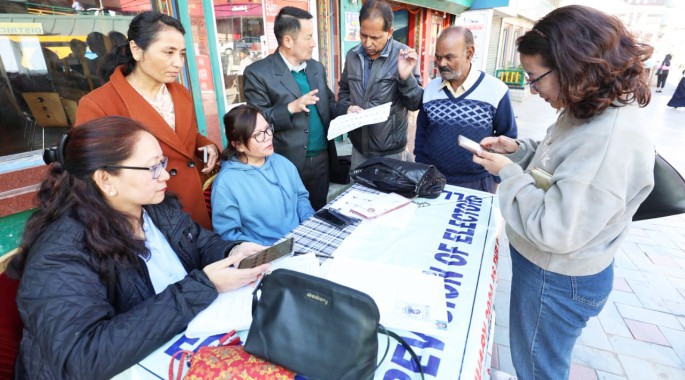 Sunday, Nov 19, 2023 10:30 [IST]
Last Update: Sunday, Nov 19, 2023 04:56 [IST]
Road show to generate public awareness on special summary revision of electoral rolls
GANGTOK, (IPR): The office of the Chief Electoral Officer in collaboration with Red FM conducted a road show 'Wheels of Democracy' in MG Marg, Gangtok today as part of SVEEP initiative to generate electoral awareness for the ongoing Special Summary Revision.
Systematic Voter's Education and Electoral Participation (SVEEP) is the flagship program of the Election Commission of India for voter education, spreading voter awareness and promoting voter literacy in India. It is a multi-intervention programme that reaches out through different modes and media to educate citizens, electors, and voters about the electoral process in order to increase their awareness and promote their informed participation.
The two-day campaign (at MG Marg on November 18 and Ranipool Bazaar on 19 November 19) includes awareness generation by Red FM 93.5, flash mob, live singing and other performances throughout the day. Various speakers including host RJ Prabal of Red FM 93.5 threw light on the importance of summary revision and updation of electoral roll. The prospective voters were encouraged to participate in the democratic process by enrolling themselves in the electoral roll and casting their votes during the elections.
Today's event, open to the public, witnessed the presence of RB Bhandari, Commissioner GMC, Milan Rai, ADC Gangtok, Pari Bishnoi, SDM Gangtok, officers from Election Department (Office of Chief Electoral Officer), DC office, GMC and Booth Level Officers.
The special campaign of Special Summary Revision 2024 was also held simultaneously wherein the Booth Level Officers throughout the State were available in their polling stations from 10am till 4:30pm to attend to the public. This shall continue on November 19 (Sunday) as well.
The Special Summary Revision with reference to 01 January 2023 as the qualifying date, started from 17 October 2023 and will continue till 09 December 2023. This is an opportunity for electors to enrol themselves in the electoral roll if they have not done so far. Young voters who have attained the age of 18 years are also encouraged to exercise their right to vote and actively participate in the democratic process.
This is also a period during which the names of dead voters can be deleted and particulars in the electoral roll can be changed including shifting from one Assembly Constituency to another.
Public can visit their nearest polling station on 18-19 November or get in touch with BLOs/DC Offices/ Election Department till December 9 and submit their form for registration as a new voter (Form 6), for inclusion of name in Electoral Roll by an Overseas Elector (Form 6A), for objecting inclusion of name of other person or seeking deletion of own or any other person's name (Form 7), for correction/shifting/duplicate Election Photo Identity Card (EPIC) and marking of Person with disability (PwD) - (Form 8) and linking of AADHAAR with Voter Card/EPIC (Form 6B). Applications can also be submitted online at voters.eci.gov.in.
It is worth noting that during the continuous revision from January this year, the State saw an enrollment of 6861 new voters in the age group of 18-19 years. The total enrolment of service voters stands at 1993. Further, there has been a total addition of 15652 voters due to enrolment and migration, and deletion of 7796 voters during the continuous revision, a net increase of 1.74% over the Final Electoral Roll published on January 5.