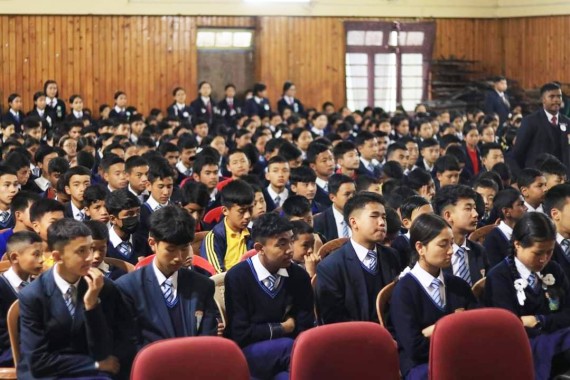 Saturday, May 27, 2023 08:15 [IST]
Last Update: Saturday, May 27, 2023 02:45 [IST]
School girls, boys sensitised about menstrual hygiene
GEYZING,: Sikkim Sisters, a West Sikkim NGO, organised an awareness programme on menstrual hygiene for the students of Soreng senior secondary school on Friday. The NGO has started a State-wide awareness campaign on menstrual hygiene keeping in view the upcoming World Menstrual Hygiene Day which is observed on May 28 annually.
Both girl and boy students are being made a part of the awareness campaign.
Dr. Yuden Bhutia and Dr. Priya Chettri, who were present as the resource persons, reflected upon the issues related to menstruation and ways to maintain hygiene during such period of time. They sensitised the students about natural cycle of menstruation and the taboo prevalent in the society.
The resource persons mentioned that menstruation is only a natural process that occurs amongst girls and is a monthly cyclic phenomenon. They stressed on importance of taking care of hygiene during menstruation to avoid health complications. The resource persons, through power point presentation, highlighted various health complications girls may face if they fail to maintain their hygiene during menstruation. They called upon the students to never shy away from discussions and remedy related to subject such as menstruation amongst girls and added that men could be equally helpful if any girl student or a woman is in need of help during menstruation.
Sikkimm Sisters president Jangmu Sherpa spoke about the need of being frank and open about menstrual hygiene and breaking taboo related to the matter in the society. She also reflected upon the NGO's initiatives in different fields of society.