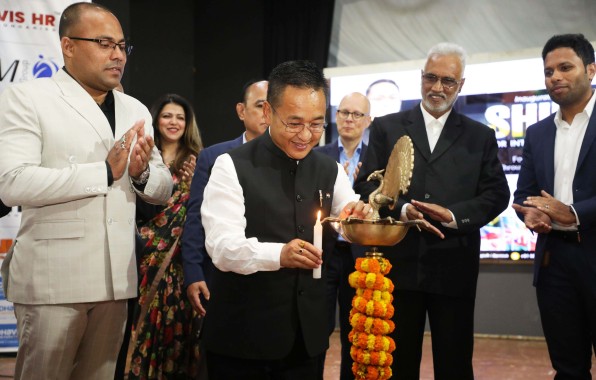 Wednesday, Sep 13, 2023 07:00 [IST]
Last Update: Wednesday, Sep 13, 2023 01:19 [IST]
Skill Hub for International Employment inaugurated for Sikkim youth
GANGTOK, (IPR): The Skill Hub for International Employment (SHINE) was inaugurated by Medhavi Skills University (MSU) in collaboration with the Government of Sikkim at Manan Kendra here today.
The program was graced by Chief Minister Prem Singh Tamang as the chief guest, along with Education minister K. N. Lepcha, cabinet ministers, MLAs, advisors, chairpersons, Mayor, deputy Mayor, councillors, Gangtok Municipal Corporation, SDGP Akshay Sachdeva, secretaries and officials of various departments, district collector, Gangtok, officials, international delegates and students of Sikkim Medhavi Skills University.
The programme also had the presence of international delegates, namely, founder, People 2 Help, Team Germany, Holger Lange, CEO, NAVIS Japan, Takako Oshibuchi, AVP, Skill Development, JBM Group, Rajeev Sharma, chairman IGJ, Muhammed Abdussalam, principal, IGJ, Dr. Dinesh K. Sadaya-Kumar, Chief Operating Officer, ZEE Learn Ltd. ZICA, Himanshu Yagnik, National Business Development manager ZICA, Arbindra Prakash, award winning music director & chairperson, B4M/NHQ, Zim Jacob, award winning-Chief Sound Engineer- B4M/NHQ, Kiran Lal, founder director of INIFD, Ritu Pocchar and co-founder Medhavi Skills University, Kuldip Sharma.
This major initiative was to facilitate in imparting overseas demand-based skill training for the Sikkimese youth and prepare them for international employment.
Through their international collaborations with the relevant employers and vocational institutions in countries like Germany, Australia, Japan, and Philippines, MSU shall facilitate training in foreign language, culture, and technical competencies in the relevant field of employment.
With this, the candidates shall be eligible to onboard the employer in the foreign country of choice.
Chief Minister Prem Singh Tamang addressing the gathering stated that the vision perfectly aligns with the broader vision of Prime Minister Narendra Modi who aims to empower the youth of our country through quality education and skill development.
"Medhavi Skills University has been a beacon in empowering our youths and making them competent apart from pioneering the model of industry-aligned and skill-integrated higher education,", he added.
He mentioned that SHINE shall definitely open doors to countries like Germany, Japan, UK, and Australia, where the wage premium is exceptionally high which shall not only accelerate the career growth and aspiration of our youth but also enable them to support their families back in Sikkim, thereby contributing to the economic and social prosperity of the state.
Further, he said that the event today was not just an inauguration, but a new beginning for the youth of Sikkim towards a prosperous future.
Minister, Agriculture and Horticulture, Animal Husbandry & Veterinary Services and Labour departments, L. N Sharma in his address acknowledged Medhavi Skills University for providing educated youths earning opportunities abroad.
He expressed his heartiest gratitude to the Chief Minister, for his concept of establishing MSU in Sikkim with a prime motive to make them trained and skilled enough for employment.
Further, he encouraged the university, the industry partners and all concerned to be accountable in delivering the responsibilities so that the vision and efforts of the Chief Minister gets fulfilled in achieving common goal of providing international employment to the educated youths of Sikkim.
Earlier, in his welcome address, co-founder and Pro-Chancellor, MSU, Kuldip Sharma warmly thanked the Chief Minister for his exemplary vision for the change needed in the state and promised in trying his best to positively match his thoughts making Sikkim the next Nalanda in another 20 years.
He also applauded the CM for his scheme of 'One Family, One Job' for generating employment to youths. The recent developments by MSU were to sign up with Indian Air Force and Indian Army which was possible only due to the sheer guidance of the Chief Minister.
Founder, People 2 Help, Team Germany, Holger Ronald Lange in his address expressed his gratitude and appreciation for letting him be a part of the grand programme. He described his aim as to bridge the gaps between India and Germany giving equal opportunities for employment with further elaborating about the importance of education.
He urged people to see it like an economic necessity with a common goal to find the right candidate and by giving proper guidance. He proudly assured that the partnership shall open the doors for a bright future.
CEO, NAVIS Japan, Takako Oshibuchi addressing the gathering illuminated on the objective to enhance skills, to master foreign language and acquire the required skills by unlocking the value and potential of each individual. She informed NAVIS as an enhancement to create more employment opportunities for Indians and to build career prospects.
She further mentioned that the initiative shall build bonds between two countries in terms of education. "Let's make the future bright together," she quoted.
During the programme, the Chief Minister virtually inaugurated the SICUN as Centre of Excellence for Overseas Mobility Hub and Medhavi Poly Diagnostic Centre.
The programme also witnessed cultural performances, screening of video followed by a vote of thanks proposed by Vice Chancellor, MSU, Prof. Dr. Amiya Singh.