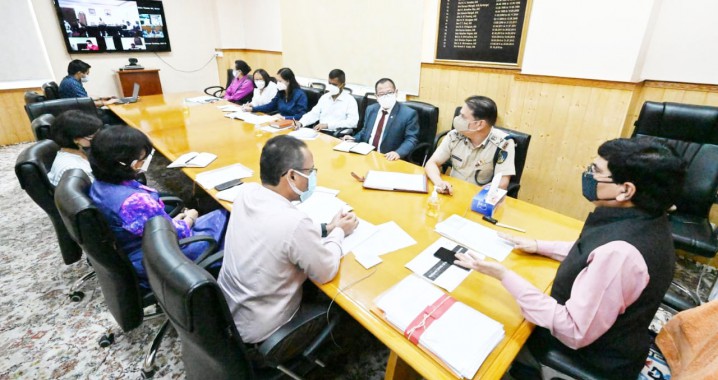 Saturday, Jul 16, 2022 09:00 [IST]
Last Update: Saturday, Jul 16, 2022 03:20 [IST]
State task force reviews Covid surge in Sikkim
GANGTOK, (IPR): Chief secretary S.C. Gupta chaired a meeting of the State Task Force on Covid-19 today to review the situation, assess the preparedness and discuss future course of action in the wake of the increasing number of Covid-19 cases in the State.
At the outset, commissioner-cum-secretary, Health and Family Welfare department, D. Anandan presented a detailed report of the prevailing situation, and the action being initiated. He called for heightened vigilance at the district level and proactive steps to deal with the situation. He also emphasized on active participation in the 75-day 'Covid Vaccine Amrit Mahotsav' campaign which was launched today, as per which free precautionary doses will be administered to people aged 18 years and above.
The District Collectors and other officials who joined the meeting through video conferencing provided the necessary feedback from the respective districts in terms of the preparedness and also highlighted pertinent issues.
Special DGP Akshay Sachdeva apprised about the level of preparedness of the law enforcement agencies to deal with Covid-19.
After thorough deliberation, chief secretary S.C. Gupta in his concluding remarks called for ramping up of testing, encourage people to come forward and participate in the free precautionary vaccine dose, and scale up further preparedness. He also touched upon the enforcement aspects to contain further spread. He also called for keeping a special watch on schools to contain the spread.