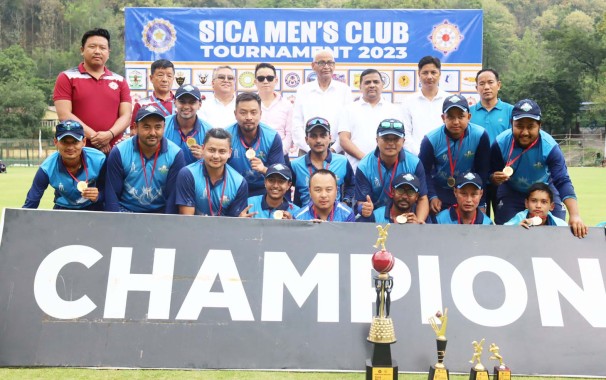 Monday, May 22, 2023 05:45 [IST]
Last Update: Monday, May 22, 2023 00:11 [IST]
Syari Alliance win SICA 'D' Division title
SAMIR NUGO
GANGTOK,: Nim Tshering Tamang grabbed a five-wicket haul as Syari Alliance Club edged Yuva by five wickets to win the SICA 'D' Division Men's Tournament on Sunday.
Syari Alliance held the Tadong side to 69-10 at the Sikkim Cricket Ground at Mining with player of the match Nim Tshering taking 5-9 and Paul Passang Lepcha and Sukra Sawa chipping with two wickets each.
In reply, Yuva halted Syari's early momentum to 47-5 before Pranesh Sewa (14 not out) and Binay Tamang (15 n.o) guided Syari to 75-5 with eight overs to spare, climaxing a Sikkim Cricket Association tournament that spanned 53 games over 40 days.
The conclusion of the 'D' Division tournament also marked the end of 2023 Sikkim domestic season.
The domestic season this year witnessed as many as 153 matches involving 101 teams amounting to 117 match days.
Through the season, close to 1,600 player registrations were received while 1,515 players participated in the 2023 season. Seven venues across the State hosted four-tier men's tournament and a women's club tournament.
Highest Scorer: Birbal Subba (Smyrna Cricket Club)
Highest Wicket-taker: Nim Tshering Tamang (Syari Alliance)
Player of the Final: Nim Tshering Tamang
Player of the Tournament: Nim Tshering Tamang